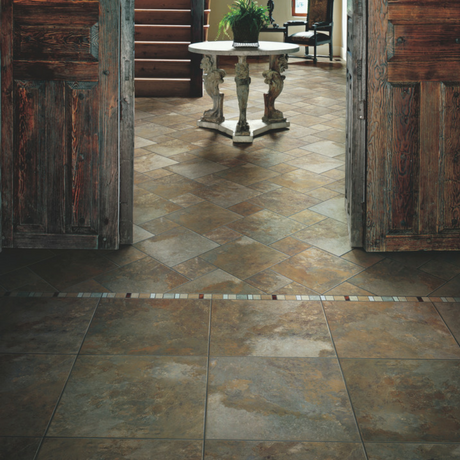 Selecting stone tiles for floors has become more and more popular in recent years. This type of flooring is a bit more expensive, but it also has a great look that many people associate with higher quality. Besides the fact that they look great, they also last longer than other types of floors. When you are deciding which type of stone tiles you want, the selection can be a bit intimidating. Review this guide of the most popular stone tile floors to help you decide on the right one for your home.
Slate
Slate is a dark colored stone and it is split into thin sheets very quickly, which is why it is so common. It is a very resilient stone. Because of its nature, it needs to be installed by someone who knows what they are doing. The more expensive it is, the better the quality of the stone.
Travertine
Travertine has become very popular in recent years. It is a softer stone that does not carry a lot of shine. It does have a tendency to scratch and stain, which are some of the drawbacks. However, it is available in a wide range of colors and tends to be a lighter color in nature.
Marble
Marble is one of those stone tiles for the home that is very sought after and believed to be a gorgeous stone that is durable. However, one of the biggest drawbacks to marble is that it requires a bit of extra attention when compared to other stone tile floors. It is prone to scratching and stains; you can get it sealed to help protect it.
Granite
Granite is not only cheap, but it is also very robust and resilient. It is a great option for many people because it is probably the hardest stone available on the market for stone tiles for home. It also has a gorgeous shine and repels water.
Don't forget to visit our store today! One of our talented flooring professionals will help you identify the best flooring option for your home.